Item C13 - Long Tapered Reamers. Group of Three.
These three reamers were surely part of a larger set (the size gap suggests at least one is missing). They are unmarked by maker, but are superbly made having boxwood handles with turned "bullseye" ends and brass escutcheons to bind the steel shafts at the top. The blades are forged, having filed chamfer decoration at their tops. The are long, producing a shallow taper reaming. The tips are ground outcanel. The cutting edges need only a slight honing. The sizes are (length; Bottom width; Top Width--inches)
7 ½; ¼; 3/8
8 ¼; 3/8; 5/8
10; ¾; 1 ½
These came from a collection of older European tools, and may have been intended for use by piano makers. They are Fine.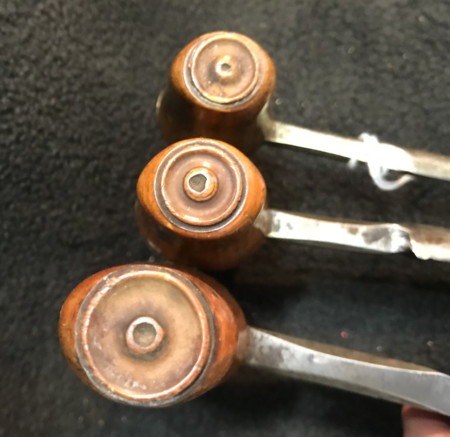 Price - $105.00