D3 - Pexto Straight Draw Knife.
A later Pexto (Peck, Stow & Wilcox) draw knife, this one has red stained handles that are tight and have full end caps. The lade is deep, marked with "Pexto" in an oval, and "made inUSA." The blade has light tarnish, but no chips and is deep. It will need honing. The edge length is 10 inches, and the tool has a 17 inch wingspan. Good+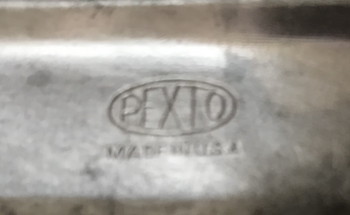 Price - $35.00
RETURN to forsale list.