Item DR9 - Proto No. 370 Eggbeater Hand Drill.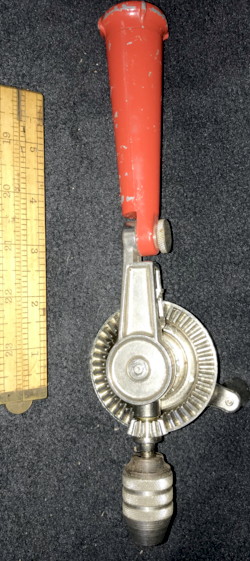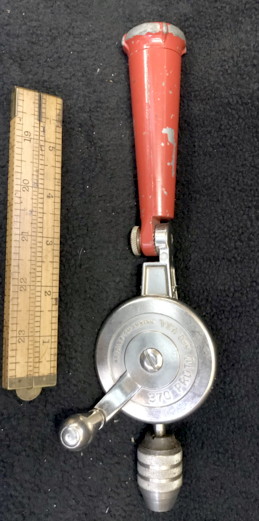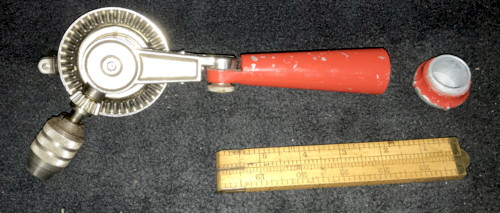 This drill was first conceived by I. C. Clawson who had his idea of a sturdy small hand drill having an adjustable handle so that it could be used from a variety of angles. The patent (No. 2,310,759) , was awarded to Clawson on Feb. 8, 1943. The drill was originally produced by the JO Mfg. Co. of South Gate, Calfornia. In time these were marked, "Joic Mfg Co."--the added "IC" probably stemmed from the inventor (I. C. Clawson's) involvement in the company. The early examples that I've had (only a couple) were smaller than the present model, and generally suffered a good bit of paint loss. This one is larger than those (it stands 11" tall with a 2 3/4" diameter gear wheel. This one has nearly all of its bright red paint on the hollow metal handle, and sports a completely nickel plated gear, frame assembly, and chuck. It would be a hard drill to lose in the shop! The drill is now marked No. 370, Proto, mfd U.S.A." and has the patent date. Proto, I believe is a descendant of the Plomb Co (another California firm), and the Proto name may have at one time been owned by Stanley. At any rate this is a nifty small hand drill. It takes twist drill bits up to 1/4" diameter. A spring releass allows the drill handle, gear assembly to be rotated about 340 degrees in the plane of the handle. Allows this lower assembly to be rotated about 190 degrees about the handle. It is in Fine condition. $30.00
Price -
$30.00
RETURN to forsale list.