Item ESK1-
Older Eskimo Sewing Implements & Tools.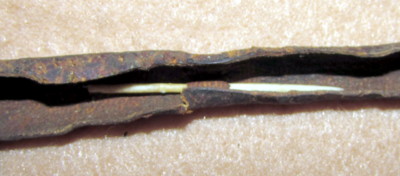 This group of sewing implements includes:
A. A curved awl or bodkin carved from old Walrus Ivory
B. Another awl, fashioned from a very old eyed iron nail, likely an 18th century trade item. The point is flattened and curved.
C. A small Ulu, with steel blade, perhaps a toy, or likely a knife for cutting sinew thread. The tool has a bone handle and a blade with only 1 ½" edge length
D. A sewing needle, fashion from a narrow strip of baleen that has been folded to make an eye, and then bound with sinew. The point is worn or broken
E. A seal skin needle case split into two straps that is knotted to a leather flap to receive a toggle to suspend it from a jacket. The bottom of the case is rolled and stiff but holds a very delicate ivory needle, about 2 inches long with a very fine eye drilled in one end (SOLD).
F & G. 2 flat pieces of fine grain, and hard stone, likely serpentine, that are drilled at one end to suspend them from clothing, and grooved on the flat sides. Probably for sharpening ivory sewing needles. They are 2 ½ and 3 inches long, with a width of about 5/8". They are hung with sinew.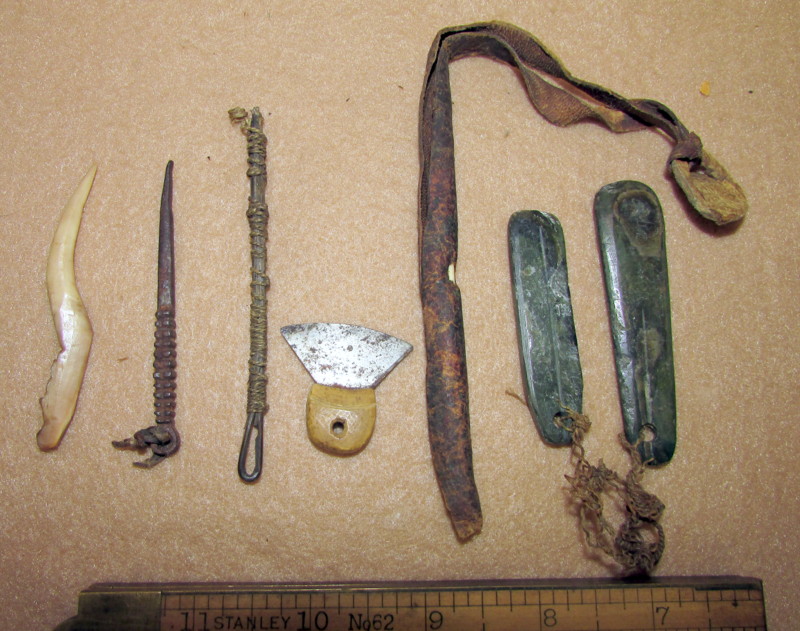 Price - $150.00
RETURN to forsale list.