Item ESK1- Eskimo or Inuit Seal Skin Mukluks.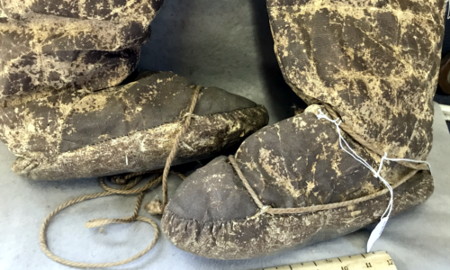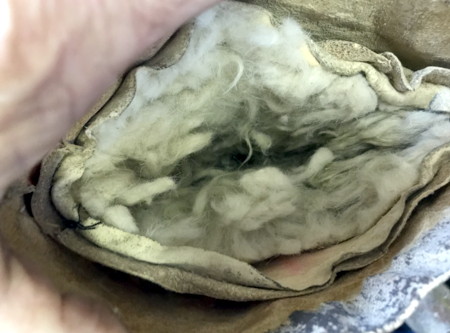 Quite a rarity in today's market, this example of genuine Arctic winter foot-ware, this pair of seal skin, hand sewn mukluks come from either the eastern or western American Arctic. They are full, adult size, measuring 18" high from the sole to top of the calf. The "shoe" segments are each 12" long, and nearly 4" wide. The mukluks are sheathed in distinctive seal skin that is dehaired on the inside. They are tightly sewed with sinew and have original twisted twine bindings for hanging to dry or for carrying. The insides of both mukluks are fitted with fulll inserts of skin with with the fur on the inside. The fur is soft, white, and fleecy. At first I thought that it might be polar bear belly skin, but now I believe it is likely from the tanned hide of sled dogs. There is scraping and wear to the outer surface of the seal skin that remains reasonably supple. This is a great opportunity for a collector of authentic Eskimo foot-ware. Good+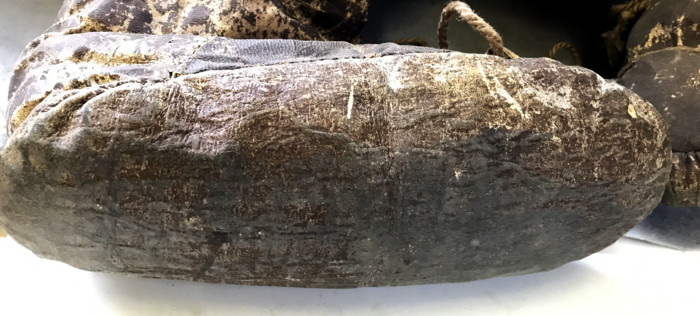 Price - $225.00
RETURN to forsale list.