Item ESK10 - Ancient Eskimo Drum Handle.
With wonderful patina and form, this quite old piece is a handle made for a Bering Strait Eskimo drums. These drums were (some are hundreds of years old) and are made in the form of a flat wooden lathe cut from driftwood and bent into a circle shape (like a tambourine, but without the cymbals). A walrus bladder or other thin skin was stretched over one side of the frame. A short handle was attached at right angles to the wooden lathe, gripping it with a mortise in the handle. The drum was "beat" with a limber wooden rod that contacted both the rim and the skin, which provided resonance as a group sang to the beat of as many as several drums of different sizes. This example is the most unusual that I've seen. First, at 6" it is relatively long and slender. Next bottom of he handle has an oblong hole carved in it (capped by an encircling groove that is decorative. And third, this hole has a captive chain link, carved from the same piece of ivory, that may have been used to suspend the drum from a garment, or a swivel, or for storage when not in use. The entire assembly has been aged to a deep rich brown color from time and submersion in permafrost. There is no decoration on the handle, except for the carved ring. But it was carefully shaped, with chamfers on all edges. The upper end of the handle extends well above the clamp for the drum rim, and is tapered. It shows the scraping tool marks that shaped it. This handle dates to at least about 1500 AD, following the end of Punuk period, and is perhaps much older. This was obtained from the Dr. John Schaeffer Collection of Eskimo Art. Fine.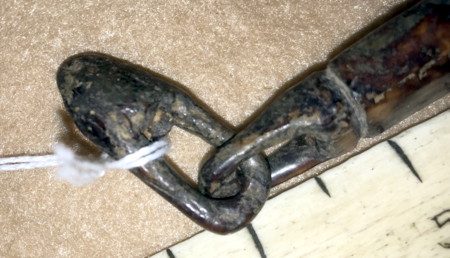 Price - $360.00
RETURN to forsale list.