Item ES9 -
Small Eskimo or Inuit Decorated Purse And a Doll Purse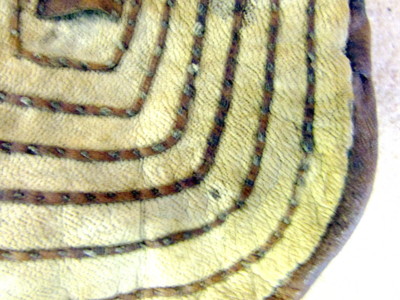 The two purses here are old, genuine Eskimo sewn items made of caribou skin, sewn with sinew. They appear to have been made by different hands, in different styles. The larger is 4 inches high and 4 ¼ inches deep. Its front and back sides are different pieces of natural caribou leather that are stitched to a narrow band of brown, dyed leather that forms the sides and seam of the purse. The back piece of leather extends to form a flap closure over the top and front of the purse that is also lined with brown-dyed caribou skin. There is a band of this leather sewed to the front to accept a closing band from the flap closure, but no band now exists. The front of the purse has three narrow nesting double "U" – shaped narrow bands of the dyed skin sinew stitched to for decoration.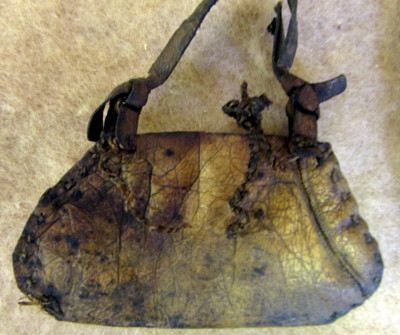 The smaller purse, probably meant to help outfit a doll is only 2 ½ inches wide and less than 1 ½ inches high, plus having a narrow "shoulder" strap as a handle. The bag consists of to pieces of caribou hide flat-stitched together at the edges, with one side seam having an added thickness from a flap of the other side. The sewing is with sinew, and there exist the remains of some braided sinew that could have served as a draw string closure. The leather is stiff, and is fairly dirty, with wear and damage to the shoulder strap.. It is a rare and charming old piece of sewing, surely from the early 20th century and may be about 100 years old. Good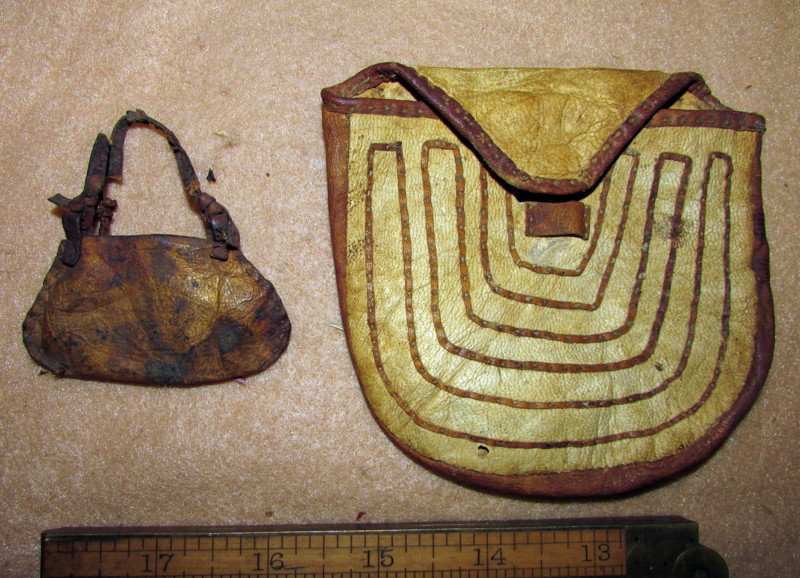 Price -
$75.00
RETURN to forsale list.