Item P35 - Stanley No. 93 Cabinet Maker's Rabbet Plane.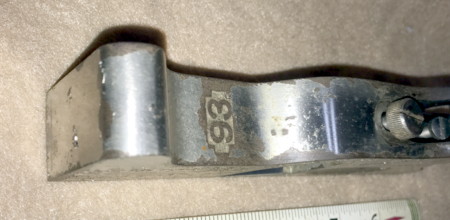 The mid-size plane in the triumvirate of the Nos. 92, 93, and 94, this one is 6 ½ inches long with a cutter 1" wide. This model was made from 1902 until 1964, before production moved to England. This example was made early in the production period. It does not have the front label disk, revealing that it has the original solid-filled front part of the plane. There is a "B" casting mark on the underside of the heel rest on the handle. The blade is nearly full length (a rarity), but its originality is attested to its mark—not a Stanley logo, but the two patent dates, "8 3 97" and "3 13 1900" upon which this plane was built. Although the plane has not been used much, the nickel plating was apparently applied poorly, and some of it has flaked away. Still, about 75% remains, but it looks ratty. I've done a little planing with it, and it performs well, showing none of the misalignment problems that the early ones are supposed to be susceptible to. Good+



Price -
$110.00
RETURN to forsale list.
---