Item R3 -
Star Tool Co. Brodheadís Patent Marking Gage.
The Star Tool Co. of Middletown, Connecticut did business under this name for the years between 1867 and 1878. They made a variety of both carpenterís and machinistís tools (See Dave Dickersonís web page http://www.angelfire.com/wy/mttools/StarToolCo.htm
For particulars. Their marking gages were noted for the innovative cam locking mechanism patented by Wessel Brodhead (No. 76,884, April 21, 1868). This simple but effective device was utilized in Starís marking, slitting, mortise, and panel gages, both plain and graduated. The marking gage here has an 8 inch length stem graduated into sixteenths. The marking disk at the end of the stem is sharp. The hexagonal head is a bit banged up, but the star logo and the patent date can be read on one of the eight faces. The cam locking mechanism works easily and is secure. It is a good example of an uncommon and celebrated gage. Easily Good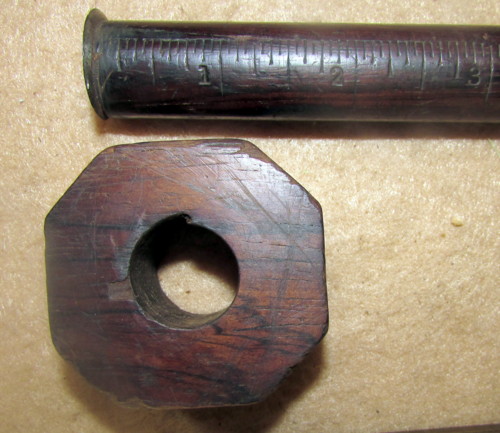 Price - $40.00
RETURN to forsale list.