Item RB13 -
H. A. Page (Boston) Tri-mitre Square.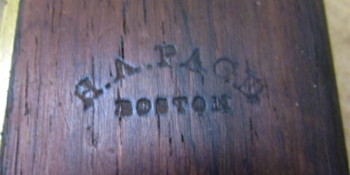 A rare mark, H. A. Page was a dealer in tools and hardware on Milk Street in Boston (by himself and with partners from at least 1845 to 1855. Examples of his mark are found on meat and other saws, but this is the only square marked by him of which I am aware. The square is distinctive in that it mitre function is carried out by the mitred end of the blade (that also has a clipped corner). The handle is the usual rosewood with brass lining and ornate brass escutcheons on both side fixed with steel pins. The handle is without cracks or chips and is very solid and good looking. It is also marked (above the escutcheon with a curved stamp of "H. F. Greene", who was probably an owner, and who marked other tools found with this one. The mitred blade on this square is 7 inches long, from handle to tip, and is 2 inches deep. It has been cleaned on one side but the other side retains most of its original bluing. My guess is that Page marked tools that he imported from England, which in the 1850s was the source of most of the tools sold in Boston. Good+

Price - $30.00
RETURN to forsale list.