Item S13 - Rogers A1 Small Hand Saw.
This small saw is much better than the "toy" saws that are so common, but is definitely made for the small hand of a preteen. The saw is 19 ½ inches long overall, with an edge length of about 15 inches. The blade is filed 8 ppi (so marked) , cross cut, and is sharp. The blade has some light tarnish that will clean and is etched "Rogers A1" with ribbons above and below. The one at the top contains, "Warranted" in the bottom one, "Cast Steel." The handle is quite nice being of stained hardwood (probably beech wood) and having a pleasing look with a very well defined hook at the top. There are no cracks or chips. Erv Schaffer listed the saw by name, but has no information. It is a great saw for a youngster, and even adults will find uses for it in the shop. Easily Good+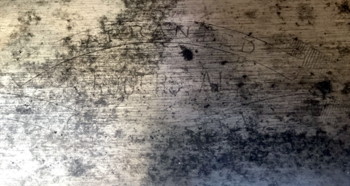 Price -$20.00
RETURN to forsale list.