Item S2 -
W. B. Sears & Co. (Middletown, NY) 10" Dovetail Saw.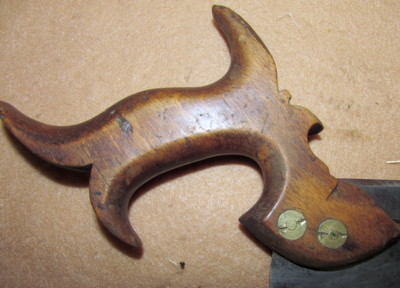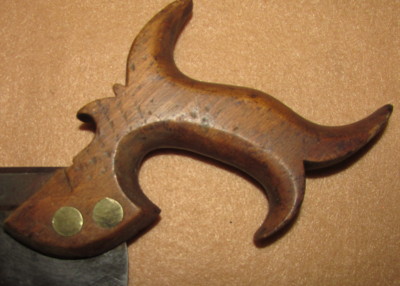 While W. B. Sears is listed in Erv Schaffer's "Hand-saw Makers of North America" as existing in Middletown, NY about 1850; and then the name became a model of the Wheeler, Madden & Bakewell saw company about 1855. Concensus today seems to be that the W.B.Sears name was a trademark of other Middletown saw companies, although the source of the name has not been identified. Poking though some genealogical material this morning, I found records of one "Walter B. Sears" who lived in the Middletown area (actually in Montgomery, the next town over), from his birth about 1807 until his death in 1879. Sears had three or four children, and in 1850 – 55 had at least three apprentices living in his house, one of whom was tantalizingly named, "George Bishop." In the New York and Federal censuses of the day, Sears is listed as a "carriage maker," and certainly could have had the skill set to assist the Wheeler people in, for example, carving saw handles. This likely homage to a skilled worker mirrors Harvey Peace naming a line of saws, "J. D. Darlington" for a neighbor who was a wood carver. More work is needed.

Incidentally, I did find a history of Middletown Directory from 1856/57 and it outlines the saw factory, its layout, and the management of the Wheeler, Madden, and Bakewell & Co. This included Elisha P. Wheeler (local banker), Edward M. Madden (a New York State Senator), and Josiah Bakewell (a practical mechanic). The Middletown directory listed 33 "sawmakers", an occupation second only to "servants."
This saw is a scarce example of an American made dovetail saw with an open handle. The saw has a 10 inch blade that is straight, and has depth of under the steel spine of 2" at the toe an 2 ¼" at the heel. The blade is moderately tarnished, but has only a few small areas of light pitting, with an additional one on the steel spine. The latter is marked," W. B. Sears & Co." / "Middletown / NY" and "Warranted Spring Steel." The open beech handle has perfect elongate horns tiyipcial of the period, and two solid head brass screws with split nuts. The forepart of the handle, infront of and above the saw screws has been broken off on both sides. This does not affect the use of the saw. The handle has lost much of its original finish, but will refinish nicely. It is an interesting older saw for use or a collection. Easily Good.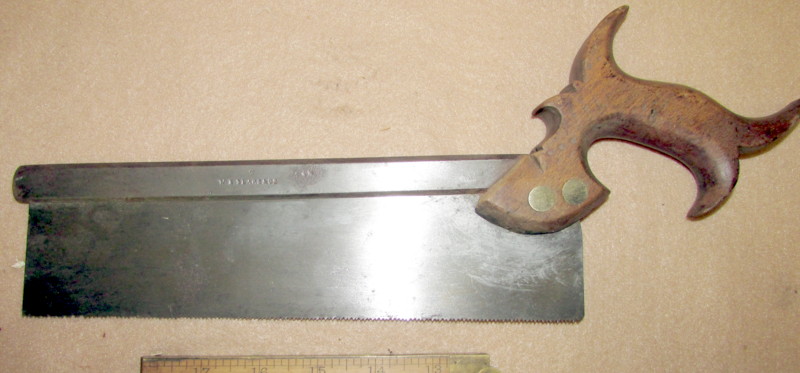 Price - $75.00