Item SCR11 - Small Scrimshaw Marking Gage.
A diminutive simple marking gage, this sailor made item has a slim mahogany stem just 9 inches long (the stem is about 5/8 x ½" in cross section. The stem is held in a whale ivory fence that is oblong ( 2 ½ wide x 1 ½" high) curved upper and lower edges. The stem is adjusted and fixed to a desired marking distance with an ebony wedge that has the traditional wooden plane form. The combination of mahogany, black ebony, and creamy white ivory makes a very decorative as well as useful tool. It will stand out in any collection of tools. fine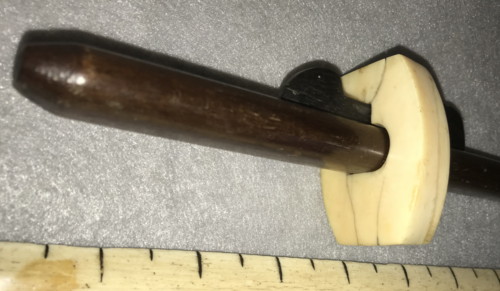 Price - $350.00
RETURN to forsale list.