Item B8 - Millers Falls No. 132 Ratchet Bit Brace.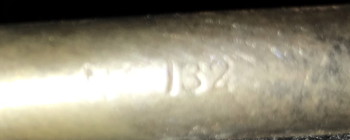 Millers Falls manufactured this brace from about 1912 to 1923. Apparently not very successful, this is the first example that I can remember seeing. The brace has a 10" sweep, alligator jaws, and a modified Barber chuck. This is marked with two 1911 patent dates. This has dense tropical hardwood handles. Its most distinctive feature to my eyes is the elongated knurled ratchet selector ring, similar to that seen on the premium 800 series Millers "Master Ratchet" braces. In use this selector ring is much easier to use than the normal narrow one found on most braces. It makes this brace special. This one has lost most of its nickel finishes, an there is some pitting on the frame. But is a smooth working brace with faultless handles Good+

Price - $25.00.
RETURN to forsale list.