PECK, STOW & WILCOX CO.
The Peck, Stow & Wilcox Co (P.S. & W.) was organized about 1870 in Southington, Conn with the merger of three parent companies (Peck, Smith, & Co; S. Stow Mfg Co, and the Roys & Wilcox Co –Per EAIA DAT*). PS&W quickly grew to be a giant in the tool and hardware business, surviving at least to 1950 when it was acquired by Billings & Spencer. Outside of a widely available 1927 catalogue reprint, there seems to be little information available about the company's products, especially between 1870 and 1900. In their later advertising, P.S. & W. claimed to have produced the first "brace made in American in 1850" – clearly a claim made in the great advertising tradition of smoke blowing.
P.S. & W. produced a line of braces from about 1880 that were of very high quality and quite distinctive—having interlocking jaws and a ratcheting mechanism that was unique to these braces. After 1895 their brace line expanded and included a ball bearing, universal jaw chuck ("Samson") that predated the "Lion" chuck of Millers Falls.
What I judge to be the earliest P.S. & W. brace in my collection is this sleeve (no ratchet) brace with an interlocking jaw chuck. The lower bow on this brace is marked with the patent date, Feb. 11, 1879 and "No. 92." The patent is one issued to Obed Peck and D. Powers for a chuck with interlocking jaws that are grooved on their bases to fit with threads on the inside of the chuck shell (Obed Peck does not seem to be related to Seth Peck, who is the "Peck" in the company name). This patent appears on later braces by P.S.&W. and apparently was their basic chuck. This brace differs from later ones by having a chuck shell that is not knurled, but has longitudinal grooves on its outer surface. Also the cup handle is fastened to the underlying fully clad quill by two screws that are fitted by bolt heads on the top of the decorated cocobolo handle. This feature disappears in later braces.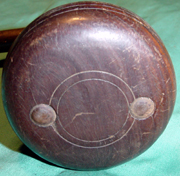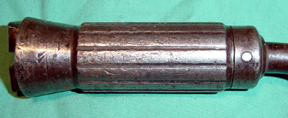 I remember seeing only a few of these early non-ratcheting braces —although a couple of models are offered in the 1927 catalogue. One sleeve brace in my collection features jaws also patented by Obed Peck, in 1881.
The earliest ratcheting P.S. & W. braces in my collection are those with the same 1879 patent data stamped on the lower bow, and a December 30, 1884 patent date stamped in the top of the ratchet housing. There are three brace patents listed on this date (only two of which are in Pearson), but the most likely is the one issued to Caspar Reising (No. 309,876) which included pin selectors to alter the ratchet setting. George Langford was diligent enough to ferret this patent out, and pass the information along. The braces marked with this patent have two selector pins protruding from the top of the ratchet housing. Each of these moves the ratchet dog to engage or disengage the ratchet gear. Braces of this type have double knurled chuck shells, and the fully clad, decorated cocobolo handles are fastened with three screws through the quill flange that do not engage exposed bolt heads on the top. Representative braces include one with 8" sweep marked "No. 103"; and 10" sweep marked "No. 102." Chuck Zitur owns a 1911 P.S.&W. catalogue in which the pin ratchet selector still appears (Per. Comm).
.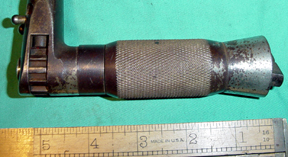 Slightly later braces appear in which the 1879 patent date remains on the bow, but the 1884 date is no longer carried.. These braces use a ratchet selector system that requires manually flipping the ratchet dogs from either side of the exposed ratchet gear. . Apparently the pin selector system was unwieldy. The new ratchet is quite similar to that patented on Feb 19, 1884 by R.C. Ellrich (#293957), but is not marked as such.. Representatives of this type of selector are found on my braces that include a 12" brace marked, "No 1001" and a 10" brace marked "No 1002," and 14" brace marked, "1200.""The latter two braces do not carry the 1879 patent date (which probably expired). They have other features that look later. For example the wrist handle is positioned by steel retainer rings that are screwed to the frame (the earlier braces have cast pewter retainer rings) and there is less decoration on the cocobolo cup handle). The 14" brace is equipped with a "Samson" chuck having an 1895 patent date.


The final major improvement made in the P.S. & W. braces before 1900 was the development of the "Samson" chuck. This had a ball bearing chuck shell with an extended knurled section for ease in tightening the bit in place, and a pair of extended alligator jaws with parallel faces and a cutout in them for the tang of a bit. This premium chuck was designed to hold round as well as tanged bits. Its development occurred with the July 9, 1895 patent of Henry Smith of Hartford, Conn. (#542448). Ron Pearson gives this an "A" rarity value, yet it is the basis of the very popular and successful chuck. The Samson chuck is equivalent in function to Millers Falls' "Lion" chuck (and pre-dated it). Those P.S. & W braces having it are considered among the best braces ever manufactured.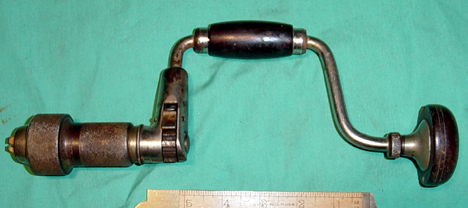 The brace above is fitted with an early "Samson" chuck (that has the patent date stamped on it). Note that this brace, in the uncommon 6" sweep, has the exposed manual ratchet dogs and screw-fastened wrist handle retainers. Dating to about 1900, this brace is numbered, 1204. It has two P.S.&W marks—the older "P.S.&W. Co." mark and the newer one featuring a hand with cold chisel in a circle, with "P.S. & W., Guaranteed" around the circle. The latter logo was replaced by 1927 with "Pexto" in an oval, surrounded by "Southington, Conn. USA".
The brace below carries that PEXTO mark, along with the name "Samson" on both the brace and the chuck. This 12" brace is numbered 8012B and was near the top of P.S.&W's brace line in its day. It still is an excellent brace. Note that the ratchet selector has been changed to the ring type, used for much longer by Millers Falls. Also, by the 1920's most of P.S.&W.'s lower quality braces were equipped with Barber Improved type chucks and those with interlocking jaws had all but been phased out.
.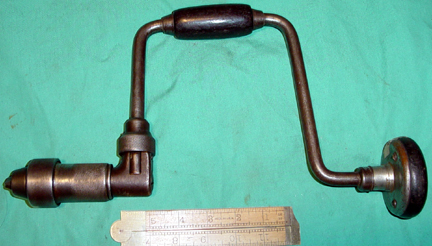 As a major manufacturer of quality braces during the first half of the 20th Century, P.S.&W. also provided braces to some major retail concerns. Most notably the braces marked, "Worth" and marketed through the Bigelow & Dowes Co. of Boston were probably made by P.S.&W. and are generally of quite high quality. P.S.&W. also is known to have made braces marked as "Keen Kutter" for the A.E. Simmons Co. of St. Louis.
Return to Brace INDEX
* 1999 - Directory of American Toolmakers. Robert E. Nelson, Editor. Early American Industries Association (EAIA). 1176 pp.