Item C3 – T. H. Witherby 3" Slick. Old, Old One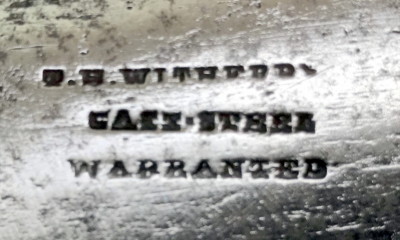 Thomas H. Witherby started out making edge tools in Milbury, Mass in the middle of the 19th Century. In the 1880s he left Milbury, moving west to Winsted, Conn. and eventually getting out of the edge tool business, turning his name over to the new owners. His reputation for producing quality chisels and draw knives remained with the firm, even though original Witherby made examples are hard to come by. I personally have only seen the "T. H. Witherby / Milbury, Mass" mark on just a couple of examples. They are rare. This nice slick doesn't have the "Milbury" mark, but it certainly is an early one. The blade is marked in a very small font with serifs, "T. H. Witherby / Cast Steel /Warranted". The usual old mark that you see is in a larger font enclosed with a rectangle (even later, a diamond" and the "cast steel" is very rarely seen. This definitely one of the very early Witherby marks, perhalps made before the trek to Winsted. The slick is a very good one. The steel is hard and has some tarnish, but almost no pitting. The surface has some very small stress cracks that smack of hand forging. The edge length is 2 15/16" wide. The length from the edge to the shoulders is 6 ½ inches and 12 1/2" to the top of the socket. There is one tiny nick in the edge at the back side. The back is reasonably flat, but were it mine, I'd want to lap it a bit.. The bevel is pretty flat. The handle is straight, with no knob or decoration. The wood is dark (probably walnut) and is 14 inches long. It has been neatly wrapped with electrician's tape over the last two thirds of it. I don't know if this was to mend a crack or protect hands. While the handle may not be original, it certainly is old. One side of the socket top has a bit of peening—probably accidental. I believe this to be a treasure for a collector of Witherby tools. Easily Good.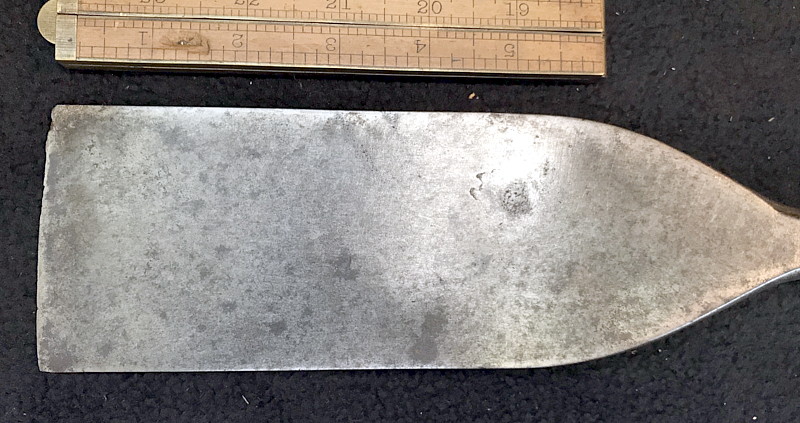 Price - $135.00
RETURN to forsale list.