Item D16 - Wood's Adjustable Iron Spoke Shave.
Patented by Albert A. Wood of Manlius, NY, on March 7, 1876,this scarce shave was originally, with several variations. Wood then moved to Atlanta and became better known for his hollow auger patents produced by A. A. Wood & Sons in Atlanta. The shaves, apparently, continued to be produced for some time in Manlius. This example is a later model (the early shaves had quite pointed arms), and it is near perfect condition, with nearly all original finishes. This shave features a single spring adjuster and functions not unlike the Stanley Nos 53 & 54 shaves, but with the spring above the cutter yoke. It is a scarce shave. Fine.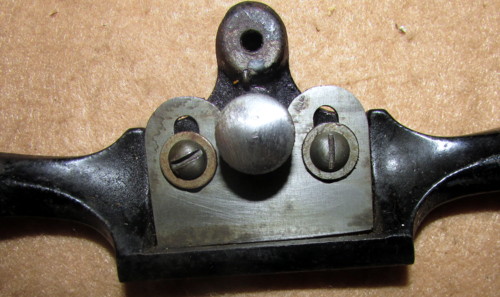 Price -
$75.00
RETURN to forsale list.