Item R3 - Star Tool Co. Patent Cam Lock Marking Gage
In 1868 Wessell Brodhead, then living in Meadville, Pennsylvania, patented a marking gage by a mechanism that allowed the stem to be fixed or loosened in the fence with a simple twist of the head and stem. This "cam lock" mechanism became and remains popular. By 1872 Brodhead's patent gages were being produced by the Star Tool Co in Middletown, Ct. This example is made of rosewood, with a graduated stem. The hexagonal fence is clearly marked with the distinctive Star Co. emblem (much better than most that you see), as well as the original patent date of April, 21, 1868. It is not common to find one of these gages so marked. The gage is in top working condition. Fine.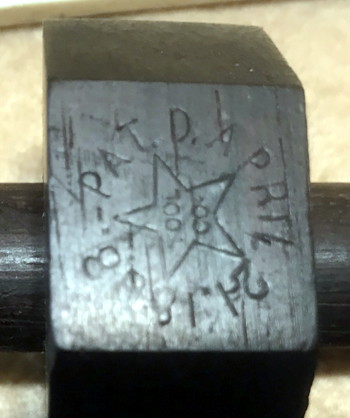 Price - $50.00
RETURN to forsale list.