Item RR14 -
Zig-Zag Folding Ivory Rule in Shagreen Case.
This folding ivory zigzag rule has 7 legs, is hand graduated and stamped, with the legs fasthed together with "bullseye"rivets,´that are not ferrous, but likely nickeled brass. Almost surely continental European (likely French) in origin, the rule marked as 22 inches in length, but in modern English inches measures 23 1/4 inches long. It is graduated to 1/12 inches, with the graduation marks, embellishment lines, and numerals filled with a red pigment. The rule is marked on its reverse side with a set of cryptic ciphers, "T, Q. D-T, D-Q, D, and S" that may pertain to ratios of measurements, or perhaps serve as a volume measure.
The rule folds to a package 3 ¾" x 5/8" x 7/16", that fits snugly into a "Shagreen" case with flip top and a spring catch. Actually the case is not plain sharkskin simply dried, but rather a tanned, shaved, and dyed sharkskin more properly known as "Galuchat." The process that produces this highly ornamental leather during the 18th century by a Frenchman named Galluchat. This example is dyed bright green (like most that you see), but is made from a shark (probably the European Toque) that has much finer denticles (placoid scales) than is usually seen in Galuchat. The combination of an unusual ivory rule, with obscure hand stamped markings, and in a near pristine Galuchat case make this an very desirable rule for a collector. Fine.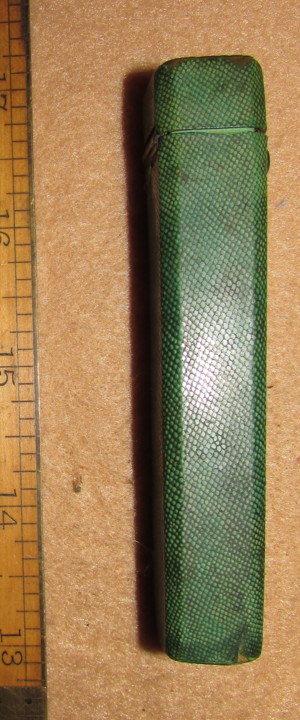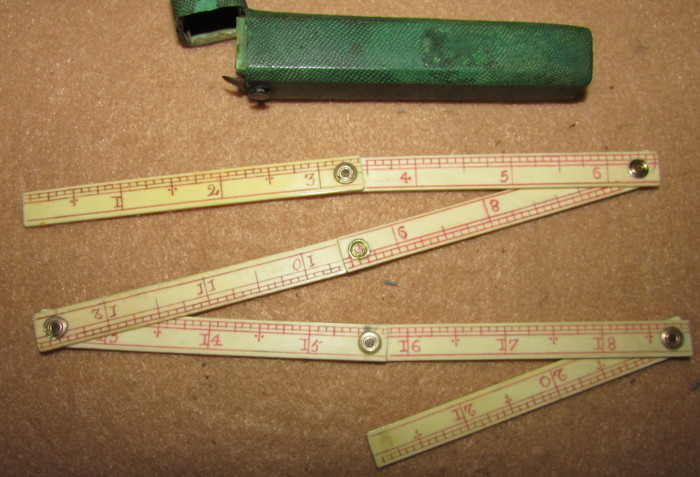 Price - $495.00