Item SCR15 - Uncommon Whale Bone Marking Gage. Rare Wedge Lock Form. Fine
Another Whale bone marking gage of distinctive form, this one has a flattened shape to both the stem and the fence (body). It also has a wedge lock feature that is uncommon in wood marking gages, and rare in bone ones. The stem on this one is 13 1/2" long, flattened in shape to 5/8" wide and only 1/4" deep. It is not graduated. There is a small hole an inch from its rounded end. I think this could have been for hanging near a bench, but also could be a hole in which to mount a marking pencil. The opposite end is square, and has a curious square end that is thinned at the tip with an ogee molding. My guess is that this could have been used to run and ink pen along a work piece, the hollow edge serving to prevent smearing of the ink. The body, or fence is also unusually shaped, being formed of two pieces of bone, 3 ½ x 1 ¾", sandwiched together with a small spacer between them. The upper layer is 1/4" thick and the bottom one is 1/2" thick. A mortise has been cut in the lower piece in which the stem runs. The stem is fixed in any position with a shapely wedge that has the general shape of a typical wedge in a wooden plane. It easily locks positively and allow the tool to move along the edge of a work piece, marking a parallel line with pencil or pen. This tool has been used little, and is in pristine condition. It is a great example for a collection of scrimshaw tools. Fine.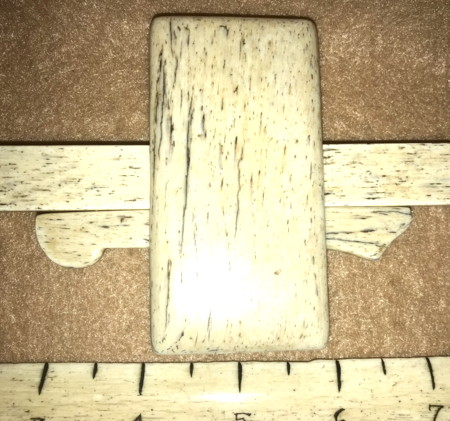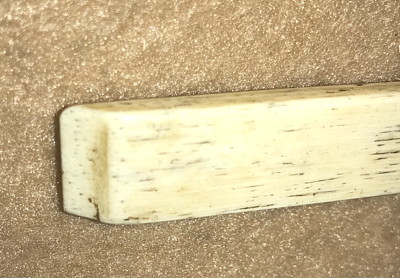 Price - $720.00
RETURN to forsale list.