Item SUR8 - Set of Japanese Surveyor's Scales with Offsets. WWII Vintage
This very interesting set of surveyor's scales with offsets are made of very fine bamboo wood, and housed in a fitted hinged case of light wood. The scales marked as being scaled in ratios of 1: 100, 1:200, 1:300, 1:400, 1:500, and 1:600. Apparently the ratio is measured as meters, but this is not clear to me. There are only 5 corresponding offset scales; with the 1:400 scale is missing. Neither the box nor the rules appear to be marked by a maker, although there is some sort of cartouche lightly stamped on the back of some of the rules and the offsets. There is hand printing on the inside of the cover that reads,
"Taken from Jap Commandant's Office on Island of Truk by F. C Erwin, Jr and presented to T. C. Forrest, Jr."
The Island of Truk (today, Chuuk, in the Caroline Islands in Micronesia) was home to much of the Japanese Naval Fleet during much of WWII. In February of 1944 the Island was subjected to heavy Allied Naval and Air Bombardment that disrupted the Japanese Fleet activities from their. Truk was not subjected to immediate invasion and was in Japanese hands until the capitulation at the end of the War. That is probably when this set was confiscated.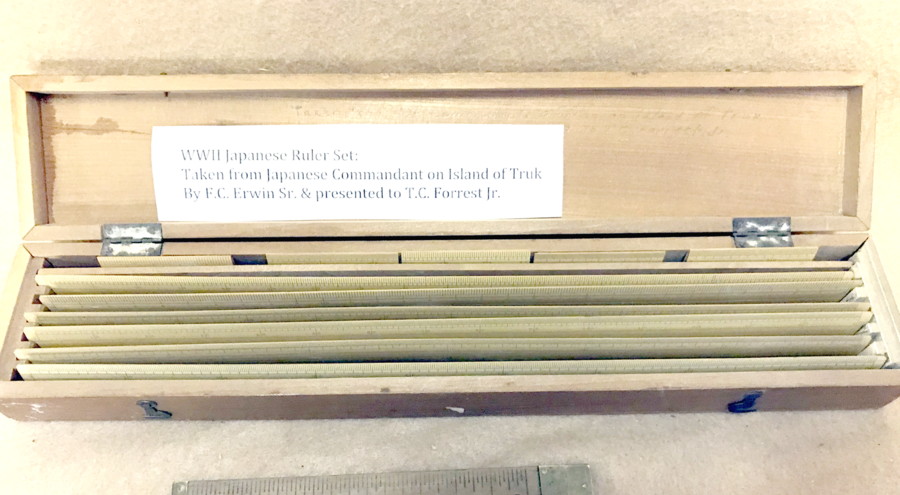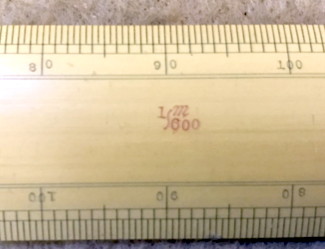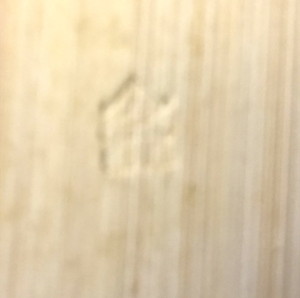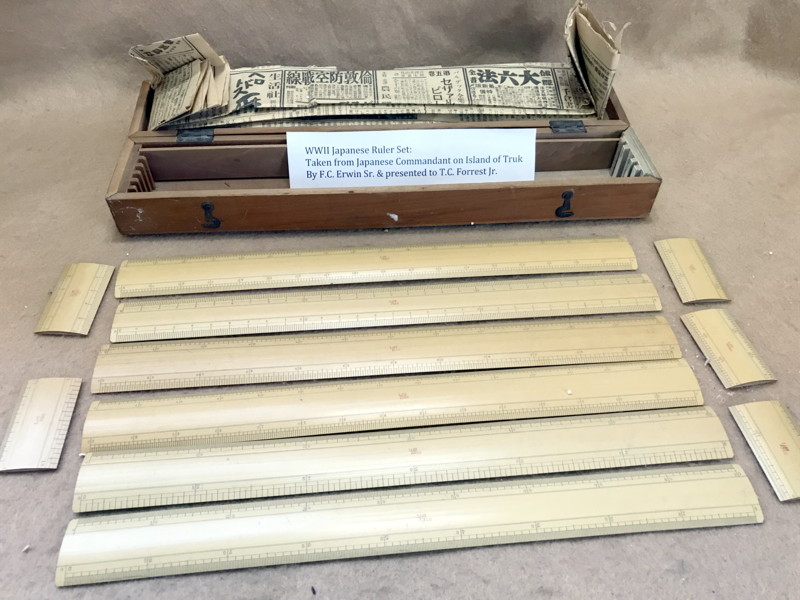 Within the box a sheet of news paper was folded and acted as a filler to keep the rules from moving about. This is a Japanese language newspaper that I'm not competent to translate, it it appears interesting. Photographs on the page depict action of a base ball game with Japanese players, and there are two photos, one of which pictures civilian and military Japanese dignitary's, while the other shows a Japanese man engaged with another who certainly looks like Joseph Stalin in a Russian uniform. This appears to be a great item for a rule or survey collection, and has historical value as well. Fine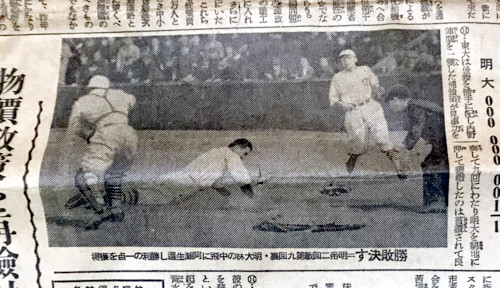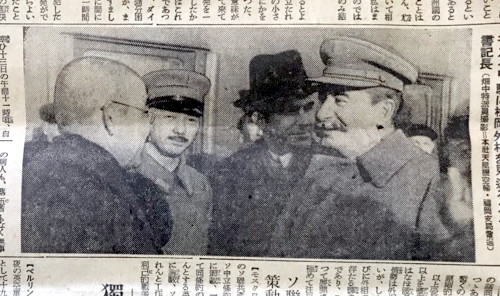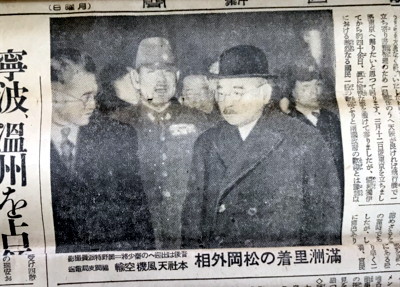 In a most unlikely coincidence, only three days after acquiring this set of rules I was doing my Sunday morning docent activity at the New Bedford Whaling Museum when I met a Japanese couple who were there as visitor. When I mentioned this piece of newspaper, the gentleman said that if I sent him pictures, he would translate some of the paper for me--which he did in just a day or two. The man was Koichi Isobe -- retired Lt. General from the Japanese Army and presently Senior Fellow at the Harvard University Asia Center. He and his wife, Midori were a most gracious couple.
His report was that this page of news print is from the Asahi Shimbun, Tokyo Edition, of Monday April 21, 1941. The top picture above on the right shows a play from the Spring Tokyo Colleges baseball game. In this game Meiji University beat Tokyo Univ. in the last inning. General Isobe noted that baseball was brought to Japan in 1871 by a young man, Horace Wilson from Maine, who came to Japan to teach English there. College basefall started in the early 1900s, and the Tokyo Big Six Baseball League was formed about 1925.
The upper picture on the right shows the Russian General Secretary, Josef Stalin seeing the Japanese Minister Matsuoka off from Moscow Station shortly after the Japanese-Soviet Non-Aggression pact was signed on April 13, 1941. The Military officer is not identified. The bottom photograph shows Minister Matsuoka being greeted upon his return from Moscow. The military officer is is Major General Hata, of the Japanese Imperial Army. The details the non-aggression pact are at https://wikipedia.org/wiki/Soviet-Japanese_Neutrality_Pact
So there is a lot of history in this set of rules, starting in April, 1941, just a few months before Pearl Harbor, and ending with the surrender of Japan in late summer of 1945
This is an outstanding set of somewhat arcane rules, in top condition, with a great story! $125.00
Price - $95.00
RETURN to forsale list.